BALI MAGIC GODDESS RETREATS
Villa Intah – Bali, Indonesia
September 23 – 30, 2022
Join Kelly Collins to tap into your divine feminine energy and reconnect to your authentic self, enhance your mind-body balance, release energetic and mental blocks, and manifest the life of your dreams!
Imagine waking up to the sounds of tropical birds and monkeys and opening your eyes to lush greenery surrounding your room.
We will begin most mornings with a meditation, breathwork, and an invigorating vinyasa flow to set the tone for the day.
From there, we will enjoy a colorful buffet breakfast with coffee and tea.  After that, it's either free time or a day of exploring the best of what Bali has to offer. Use your free time to lounge by the pool, get a massage from the spa, or go on your own adventure!
Your days will end with a relaxing restorative or yin class with reiki energy healing, a manifestation ceremony, and a healthy, nourishing group dinner.
Some evenings will end with a group activity like a Kirtan drum circle.


---

THE RETREAT CENTER: VILLA INTAH – NAYA UBUD
Nestled within a lush tropical garden and surrounded by vibrant rice fields, Villa Itah is a stunning and tranquil oasis. The property is located 7-minutes from Ubud city center, giving you the magic and essence of staying in rural Bali while still having the option to take a quick taxi ride or a relaxing 20-minute stroll through the rice fields to go explore Bali's renowned cultural hub.
The onsite restaurant, Kafe Naya, sources garden-fresh local produce to fresh, bright, nutritious meals that will heal your body and fuel days of adventure and days of rest.
THE YOGA
Located down by the river and a bamboo grove is Naya's stunning open-air yoga shala. This retreat will host a variety of yoga practices in the yoga shala, including dynamic vinyasa flows, meditative restorative and yin classes infused with reiki healing energy, workshop-style classes to enhance your practice, and guided meditations fueled by Goddess rituals and pranayama practices.
THE ADVENTURES
During our 8 days together, we will go on a variety of adventures that will open your heart and ignite your soul. From a hike to a stunning waterfall, to visiting a sacred water temple to take part in a purification ceremony, to a meditative Kirtan chanting circle, our adventures off the mat will help you reconnect to the deepest parts of your soul and divine feminine energy, restoring balance to your body and mind and inspiring intentional living once you leave the retreat to return home.
---

WHAT'S INCLUDED
7 nights accommodation at Villa Intah  – Naya Ubud retreat center
3 vegetarian/vegan meals per day + daily green juice (can accommodate all food allergies)
Transfer from the airport to Villa Intah – Naya Ubud
Daily yoga, meditation, breathwork, and reiki healing
2 of Kelly's master workshops! (read more details below)
Donation in your name to the Bali Animal Welfare Association
Visit to Tirta Empul Temple for an authentic Balinese purification ceremony
Cacao ceremony
Visit to the Tegellalang Rice Terraces
Offering making class
Kirtan chanting circle
60-minute Balinese massage
Day of volunteering
---

Included Workshops:
Awaken Your Chakras Workshop & Master Yoga Class
This workshop will teach you about your energetic centers and how you can find more physical, mental, emotional, and energetic healing and balance in your daily life.
Life Audit, Manifestation, and Vision Planning Workshop
In this workshop, Kelly will lead you through a life audit to pinpoint where you are out of alignment. Then, she will guide you in getting clear on the healing that needs to be done and the pinpoint actionable steps that you can take to manifest the life that you deeply desire!
Optional activities during the retreat include:
The Campuhan Ridge Walk
Monkey forest in Ubud or Pandangbai
Other activities offered through Naya Ubud
---

WHAT'S NOT INCLUDED:
Airfare
Transfer from Naya Ubud to the airport after the retreat ends
Tipping
---

ITINERARY DAY BY DAY:
Day 1: GODDESS GROUNDING
2 pm: Arrive at Naya Ubud, check-in, get settled, sip on a complimentary green juice and relax by the pool.
5 pm: Welcome circle + Slow flow, breathwork, & meditation
7 pm: Group dinner
Day 2: GODDESS AWAKENED
8 am: Morning breathwork, meditation & practice
10 am: Breakfast
11 am – 3 pm: Free time- get your complimentary massage at the Naya spa, lounge by the pool, walk to Ubud city center, have lunch at Naya, walk along the Campuhan Ridge
3 pm: Offering making class and ceremony
5 pm: Meditation + Restorative practice with Reiki healing energy
7 pm: Group dinner
Day 3: GODDESS RISING
8 am: Awakening The Chakras Master Class with yoga practice
9:30 am: Breakfast
10 am – 4:30 pm: Purification ceremony at Tirta Empul + lunch at Tegallalang Rice Terraces
5 pm: Sharing activity + Chakras balancing yin practice
7 pm: Dinner
Day 4: RETURN TO LOVE
8am: Bhakti Yinyasa flow
10 am: Breakfast
11 am – 5 pm: Free time – take a day trip, walk to Ubud city center, read by the pool, lunch at Naya
5 pm: Restorative Ho'ponopono with Reiki healing
6:30pm: Dinner
Day 5: ENTERING THE ETHERS
8 am: Breakfast
10 am: Waterfall Hike
12 pm: lunch and free time
5:00 pm: Manifestation workshop + Mind-Body Liberating Yin Practice
7 pm: Dinner
Day 6: GODDESS OF ONENESS
8 am: Morning breathwork, meditation, & practice
10 am: Breakfast
11 am – 4 pm: Volunteering with BAWA
6 pm: Dinner
8pm: Kirtan circle + Restorative practice + Reiki healing
Day 7: GODDESS MANIFESTED
8 am: Kundalini Yoga Flow + Meditation
10 am: Breakfast
11 am – 5 pm: Free day, optional Mandala art workshop (includes meditation, music, and dance party!)
5 pm: Manifesting With The Chakras Yin Practice with Reiki healing
7 pm: Dinner
Day 8: GODDESS EMBODIED
8 am: Morning breathwork, meditation, & practice
10 am: Breakfast
12 pm: Check out
Contact us to learn more
Start from

€8,500.00/Per week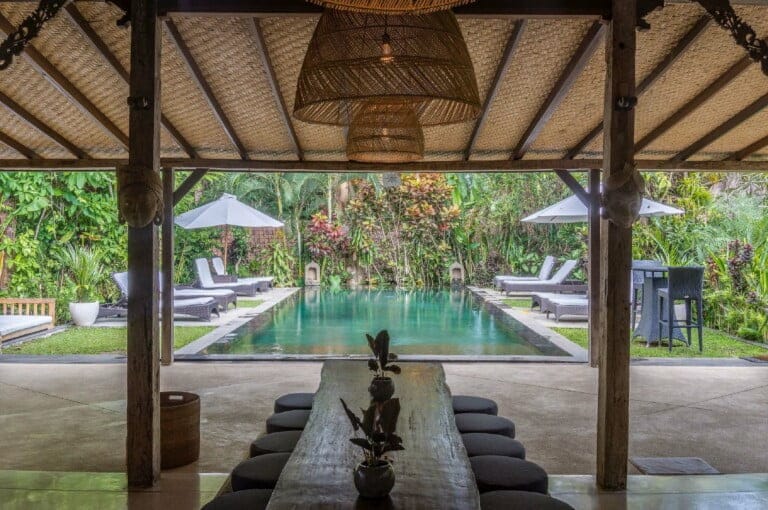 Start from

€8,500.00/Per week
Ubud, Bali, 80571, Indonesia, Ubud, Bali, Indonesia
Beds:

6

Baths:

6

600

m²

ID:

hz-287

Villa
Details