Villa il Cascinale: At short distance from the ancient town of Lucca, Villa il Cascinale is an elegant farmhouse in the tranquil Tuscan countryside surrounded by splendid olive groves and orchards. The house was part of the Controni family estate, a powerful family of Lucca; it was originally built as a farmhouse for the workers of the estate and comprehended stables, a grain warehouse and bread oven.
Thanks to a high quality renovation, the house is now a heaven for countryside and wellness lovers.
In front of the house there is a spacious private garden and a lovely dining area (max 22 people) with BBQ shaded by beautiful trellis covered by roses, which lead to the marvelous private swimming pool, reflecting the surrounding olive groves. An amazing panorama, a unique haven of peace!
Fully restored to the  highest of standards, it still retains its age-old Tuscan charm with terracotta tiled floors, wood beamed ceilings, frescos and several little patio areas shaded by rose covered gazebos.
Indoors the farmhouse has kept the typical Tuscan flair: wooden beamed ceilings, terracotta tiled floors and a traditional fully equipped Tuscan kitchen. At the same time the Villa offers all top quality modern comforts: sat.TV, wifi, air conditioning and centralized music system. Every detail has been carefully arranged to make your stay truly unique!
Enjoy treasured Tuscan moments in good company.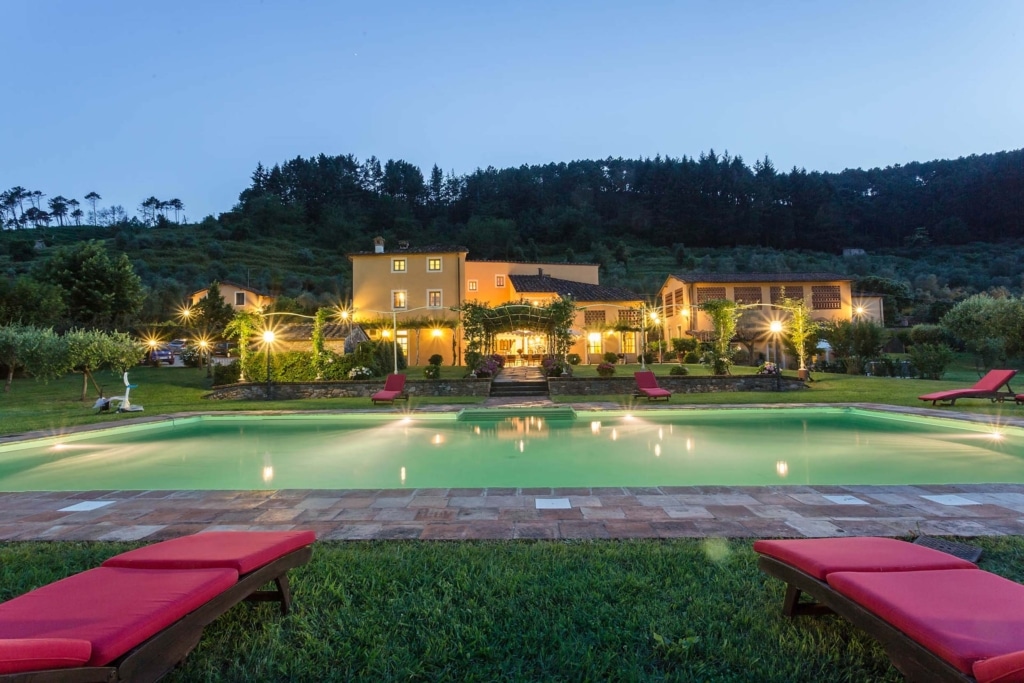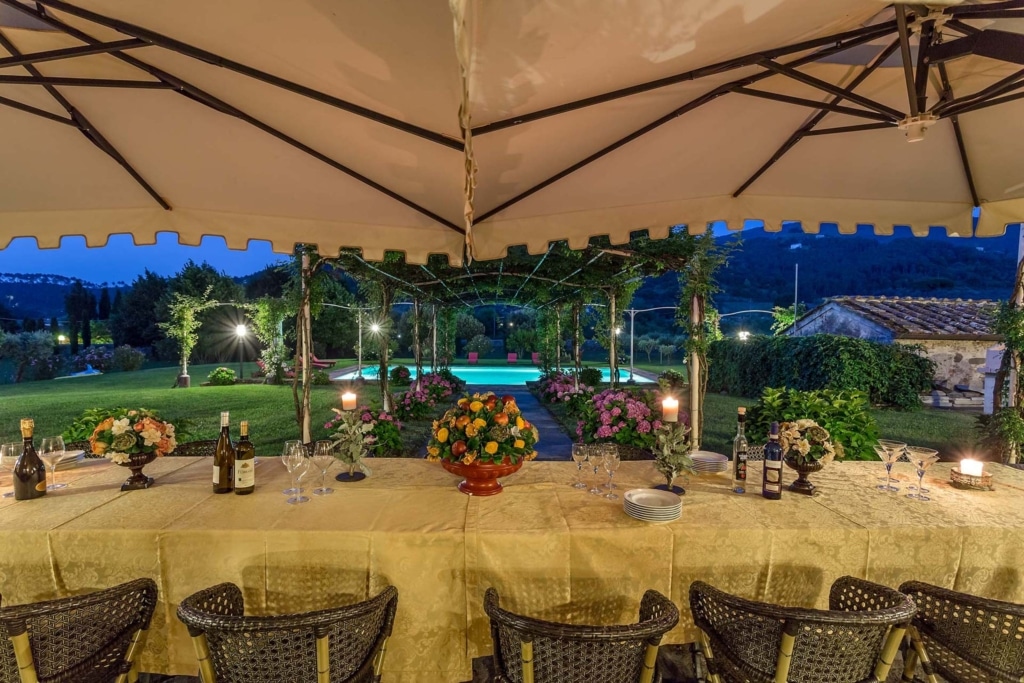 Villa Il Borgo: In the 1700's Count  Bernardini  created  a  haven  in  the  hills  that  surround  the  ancient  walled city  of Lucca. Today Villa il Borgo is an elegant  and  exclusive  Tuscan  retreat  immersed  in  a splendid parkland  of  ornamental  ponds  and  antique  fountains,  time-forgotten courtyards  and lemon  scented Italian gardens.
The 12  individually styled bedrooms,  for  up  to  24  guests,  are  a  reflection  of  gracious living blended  discreetly  with  the  typical  Tuscan  hamlet  style  of  wood  beamed  ceilings,  terracotta floors and  warm, welcoming colours.
Reception  rooms  include a  wine  library  with   private collection of Tuscan wines, a card and billiard room, a domed  music  room  with  log  fireplace,  grand banquet room, a large Tuscan kitchen, several comfortable lounges as well as  a  workout  room.  With original features  and  picturesque  views  over hills  and  olive  groves,  Villa il Borgo is a home  of beauty,  tranquility  and charm, a  perfect  place for the gathering of  family and friends where   days are  timeless  and memorable.
Surrounded  by  hills  filled   with wild boar, Villa il Borgo  was  once the  hunting  lodge  retreat of Count  Cosimo  Bernardini  of  Lucca who  would   spend  his  weekends in the  country.
The Bernardini  family  played  an  instrumental  role  in  the administration and  politics   of the  Republic  of  Lucca  and  were  responsible  for  the  upkeep  of  law (magistrates) and order  from 1388  through  to  1798.  They  continued  to  support  the  new  political  order  with   the   invasion of Napoleon towards the end of the 18th century.  At  this  time,  Borgo  was  extended  to  become a  small village for the workers of theestate which included an olive press, bakers and chapel.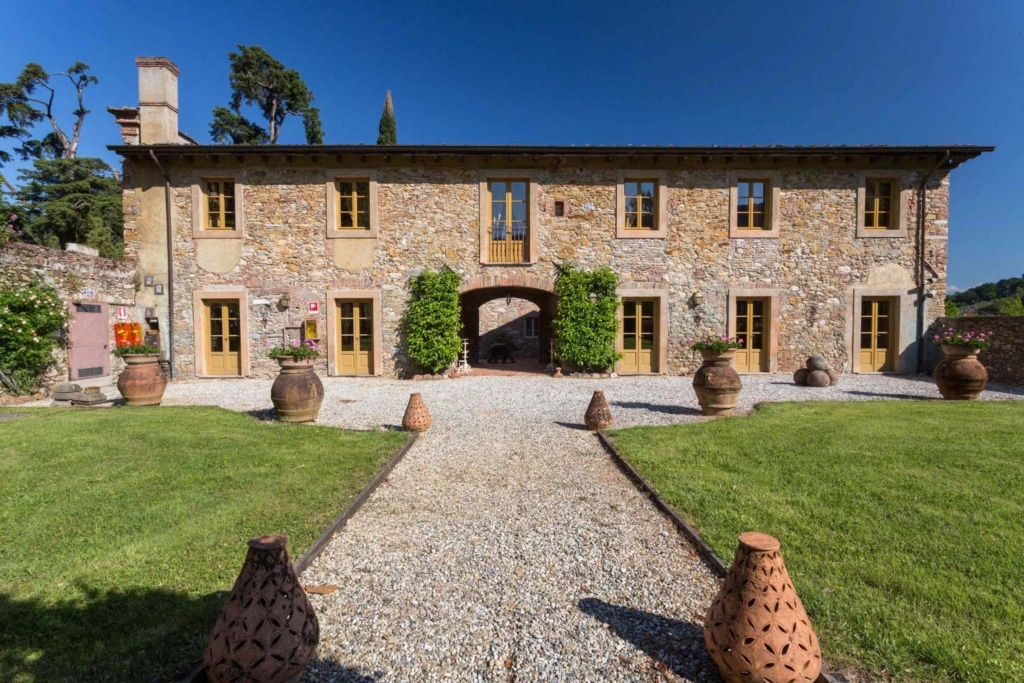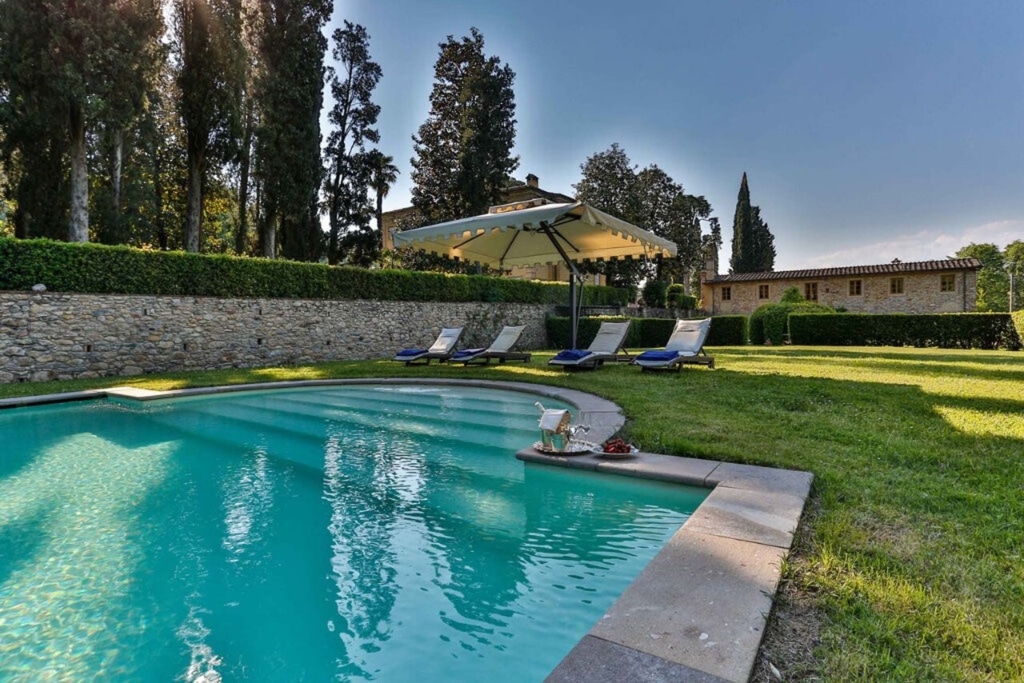 Villa Il Cigno: Standing majestically in beautiful parkland, Villa Il Cigno  is an aristocratic 17th century villa offering the discerning traveler Tuscan living at its finest in a sophisticated ambience with 7 luxurious guestrooms for up to 14 guests. The large and spacious frescoed rooms filled with antique furnishings offer an air of elegance throughout where modern conveniences blend beautifully with the  rich  heritage  of  this  ancient  family  home.  Charm  and  character  around  throughout  grand reception rooms which include a magnificent drawing room, cosy TV lounge, card room, Tuscan kitchen, breakfast room and elegant dining room.
The villa is nestled in the midst of tranquil Italian gardens through which flows a fresh water brook into two small lakes overlooked by shady weeping willow tree. The Grand cypress trees and fragrant lemon and herb gardens create the perfect backdrop to the private swimming pool. Discover the magical beauty of Villa Il Cigno  and enjoy inspired moments of harmony, relax and refinement.
Built in 1624, Villa Il Cigno  is set in a verdant valley in the southern hills of Lucca and was once summer residence to Count Cosimo Bernardini. The Bernardini family owned several palazzo's in the city centre as well as many villas in the hills that surround the city and were 72 times Gonfaloniers of the Republic (magistrates of the medieval communes) from 1388 with Giovanni through to 1798 with Cosimo. In 1805 when Napoleon installed his sister, Elisa Bonaparte and her husband Felice Baciocchi as rulers of the Principality of Lucca, the Bernardini family continued to feature in this new political order with Federico Bernardini being camp assistant to Felice Baciocchi, Duke of Lucca, and his wife, Eleonora de Nobili "dame de compagnie" of the Duchess Elisa Bonaparte, Napoleone's sister.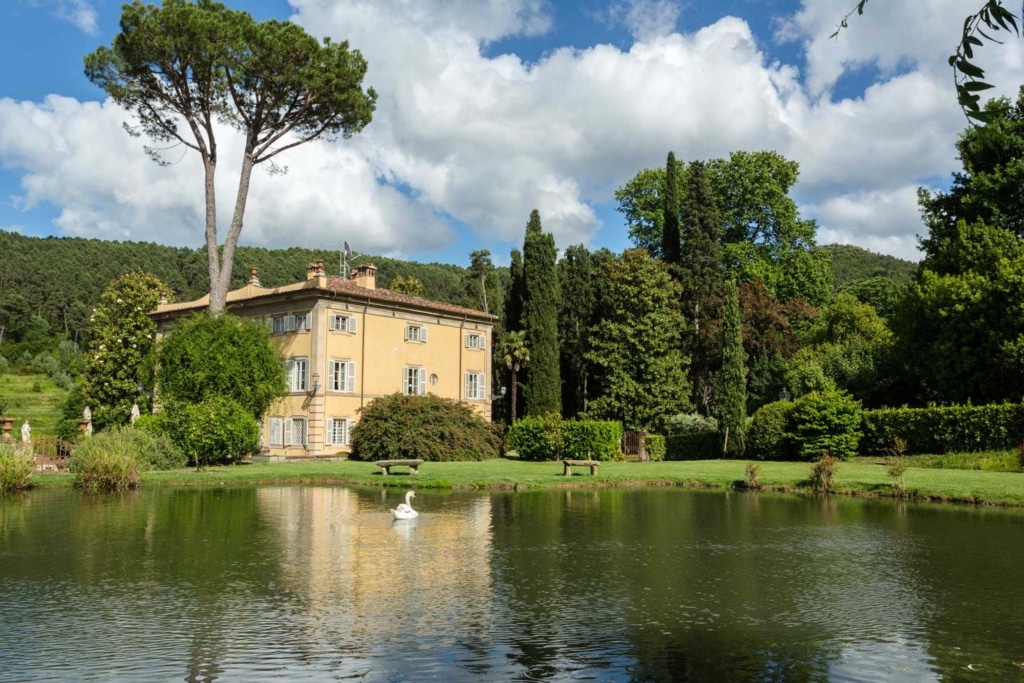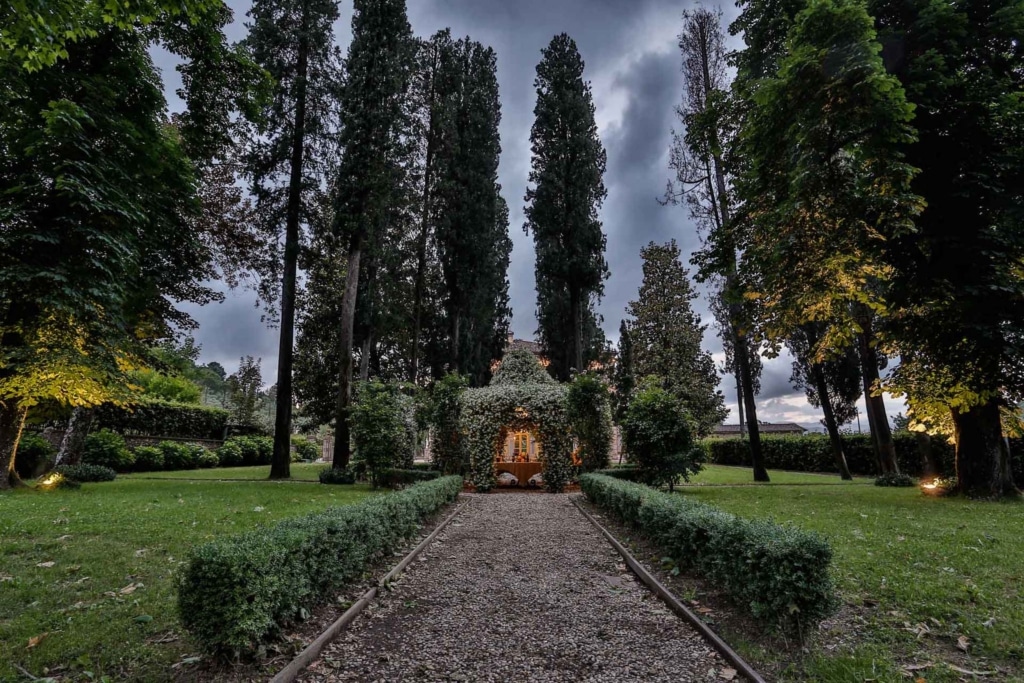 Villa Gli Ulivi: Is an original olive press which has been charmingly restored to create a warm and welcoming home filled with original features. There are 4 delightful bedrooms, each with en-suite
bathrooms, for up to 8 guests and reception rooms include a large and comfortable lounge and a spacious Tuscan kitchen with eat-in breakfast room.
The gardens are surrounded by terraced olive groves with valley views across the swimming pool to the medieval towers of Lucca – the perfect place to enjoy relaxing summer evenings with close family and friends and experience a little piece of Tuscan heaven.
Olives have been collected from the terraced hillsides that surround Villa Gli Ulivi for centuries. Dating back to the 16th century as the private press for the Controni family who resided in the villa during the summer months, the frantoio was fully functional until 1997 collecting olives from the villagers of Vorno and pressing some of the best olive oil that Lucca has to offer.
During its restoration, large and ancient terracotta vases were found embedded in the cellars that at one time would have held the freshly pressed oil which was a valuable and prized commodity.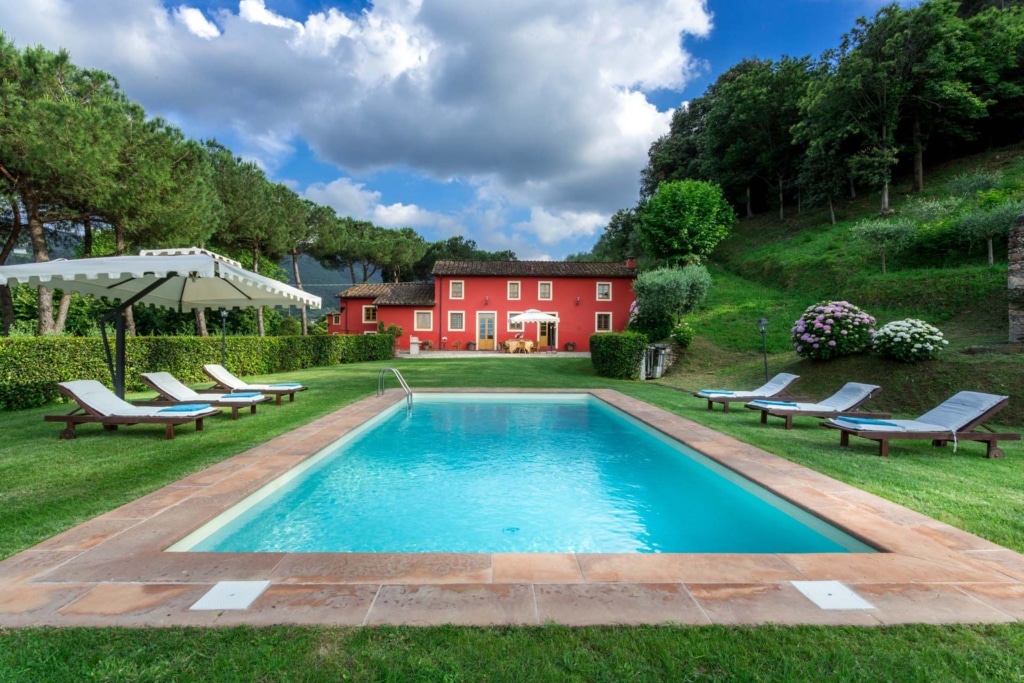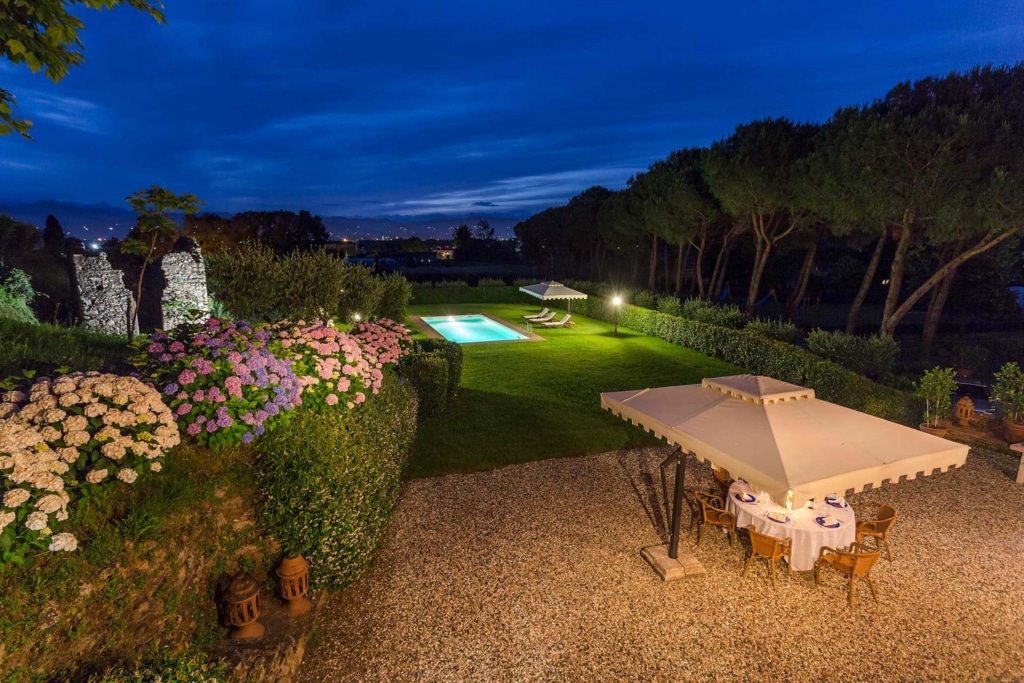 Villa Granduca: Is nestled below Monte Pisano on the southern outskirts of Lucca, is an historic 19th century Lucchese villa set on a stunning estate of hill  terraced  olive  groves,  elegant  Italian  gardens and pine forest hilltops with castle ruins.
Panoramic views reach out across Lucca and Nottolini's acquaduct and a pretty walled garden provides a  peaceful  and  relaxing  setting  for  the  swimming  pool and summerhouse with workout room.
In keeping with the villa's gentle and  enchanting atmosphere, the unique interiors are elegantly furnished with style and charm and offer eleven frescoed guestrooms all with en-suite facilities for up to 22 guests. With three living rooms, a study  area,  a billiard room, a grand banquet room  and  the  shady  retreat  of  an  arched  loggia,  the  villa  offers  larger groups plenty of opportunity to relax in  each  others  company  or  enjoy  moments  of  escape and privacy.
Monte Pisano is historically noted as  being  one  of  the  main  battlefields  in  the  many  wars between Pisa and Lucca which started in  1000  and  continued  for  over  400  years.  The  villa itself was built as the summer residence of the Controni family; noble merchants who,  in 1680,  took  over what is now Palazzo Pfanner in the centre of Lucca. In 1692 Carlo Controni  invited  prince Frederick of Denmark and Norway  as  a  guest  whilst  he  was  visiting  Lucca  during  his  Grand  Tour of Italy.
For  many  years the  fertile  estate which provided housing  for workers,  a chapel, stables and  an olive oil press, was used for the cultivation  of  rare  flowers.  The  estate  is famous  because it  was the residence of Mr. Felice Matteucci, the father of the combustion engine, who invented it in 1853.